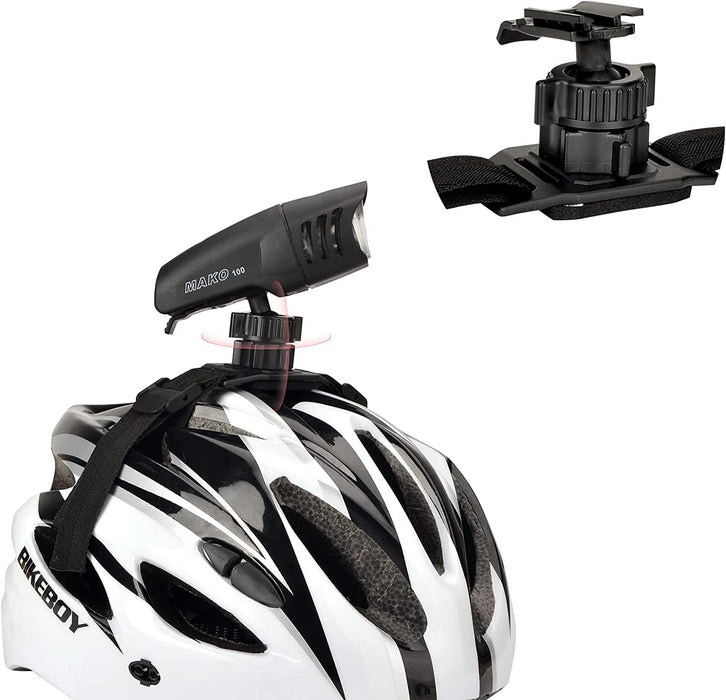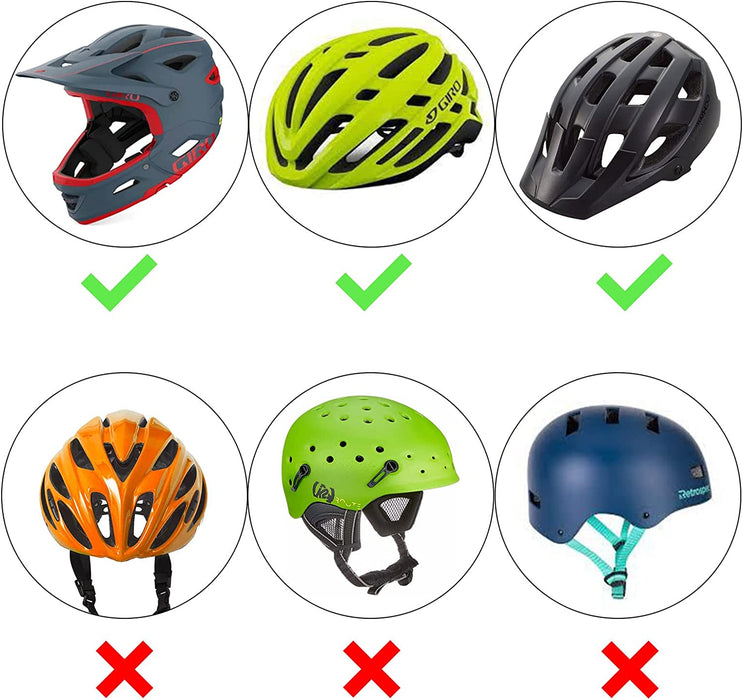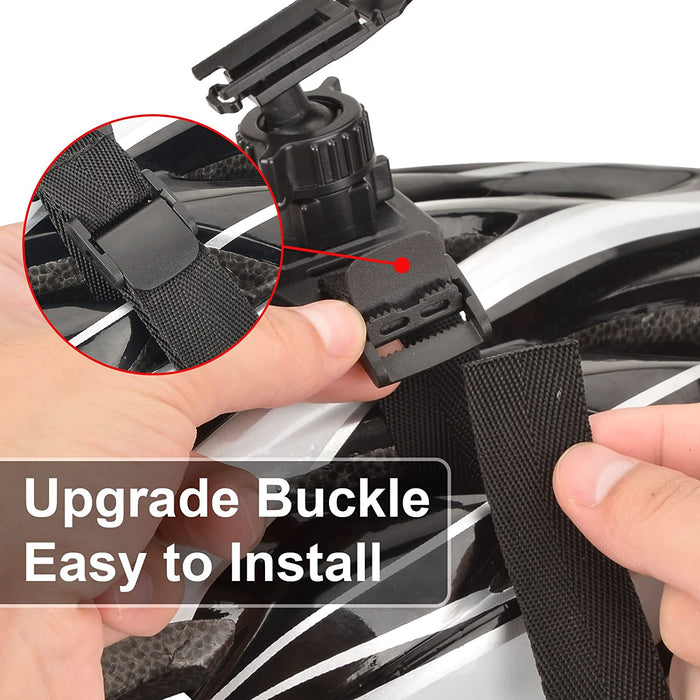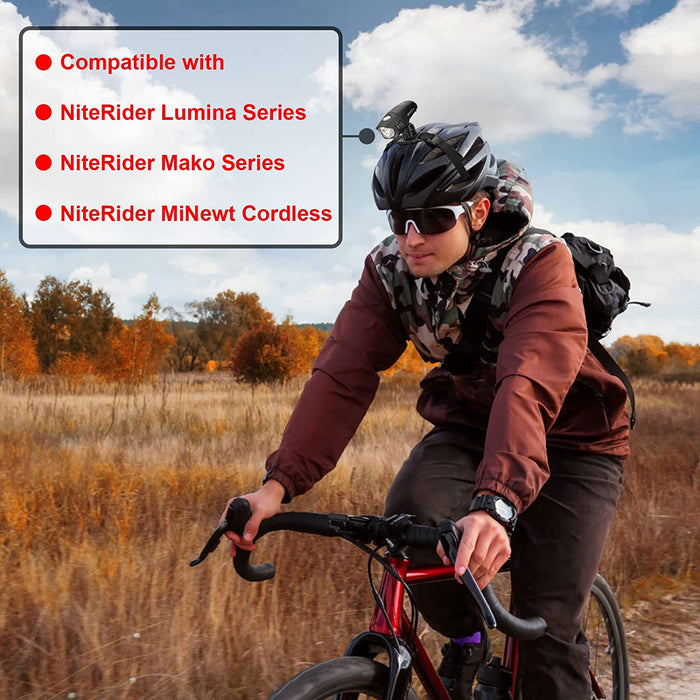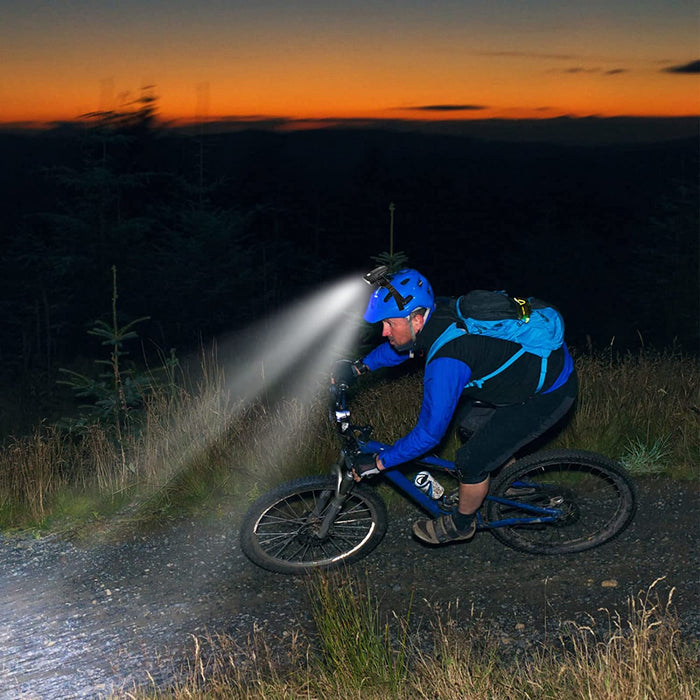 NiteRider Lumina Helmet Mount with 360 Degree Rotating, Adjustable NiteRider Bicycle Helmet Strap Belt Holder for NiteRider Lumina Max/Pro/Boot/Micro Series, Swift/Mako Series
Features:
Compatibility: This niterider helmet mount have wide compatibility. Compatible with NiteRider Lumina Max/Pro/Boot/Micro Series, Swift/Mako Series.


Better Angle for Filming: The angle of the lumina helmet mount can be adjusted to any angle, because of the 360 degree rotating ball on strap, and you can get a multi-angle for filming.


Adjustable Strap: You can use this niterider bike lights helmet mount to mount your camera on your helmet, and adjust to suitable place to secure your bike light.


Firmly and Steady: This niterider helmet light mount have padding underneath and more stable to use, and holders your bicycle light firmly for more steady shots.


Wide Applicabilty: This adjustable niterider helmet strap mount fit a vast variety of helmet hole patterns easily. Lightweight and comfortable to use.
Product Description:
iGuerburn Bicycle Vented Helmet Light Mount for NiteRider Lumina Mako Series, Swivel Bike Mounting position light to any angle of Front, Side, Back
Nightrider Lumina Helmet Mount
Install your bicycle light.
Buckle to adjust the strap.
Ball head to rotate 360 degree panoramic.
Locking knob to tighten or loosen the ball head.
Sponge at the bottom to prevent the vented helmet mount slipping.
Compatibility:
NiteRider Lumina Series: NiteRider Lumina Max 2500, NiteRider Lumina Max 2000, NiteRider Lumina Max 1500, NiteRider Lumina Pro 1300, NiteRider Lumina Pro 1200, NiteRider Lumina Pro 1000, NiteRider Lumina OLED 1200 Boost, NiteRider Lumina 1200 Boost, NiteRider Lumina 1000 Boost, NiteRider Lumina Dual 1800, NiteRider Lumina 1100 Boost, NiteRider Lumina 900 Boost, NiteRider Lumina Micro 900, NiteRider Lumina Micro 650, NiteRider lumina 850, NiteRider lumina 800, NiteRider lumina 750, NiteRider Lumina 700s, NiteRider Lumina 650s , NiteRider lumina 550, NiteRider lumina 400, NiteRider Lumina 350s, NiteRider lumina 350
NiteRider Mako Series: NiteRider Mako 250, NiteRider Mako 200, NiteRider Mako 150, NiteRider Mako 100
NiteRider MiNewt Cordless series: NiteRider minewt 770, NiteRider minewt 600
Product Dimensions: 3.54 x 3.31 x 2.44 inches; 0.07 Kilograms