Cold Therapy Socks for Swollen Ankles Arch Heels Foot Pain Relief Suffer From Plantar Fasciitis
YOU WILL RECEIVE IT WITHIN 1-2 DAYS
Features:
The cooling ice pack socks for women / men work great for sore swollen hot arch ankles heels foot pain relief.


ONLY our socks have ice packs for ANKLES to reduce pain and swelling and just make you feel comfortable.


ONLY our socks have two separate Hook and Loop Fastener Straps to supplement if 'compressing' this against your foot reliably.


The cold therapy socks as part of ice therapy regimen due to chronic pain from foot joint tendonitis, plantar fasciitis and chemotherapy.



Package including: One Pair of Socks + 2 Long Gel Ice Packs + 4 Short Gel Ice Packs + 2 Separate Hook and Loop Fastener Straps.
Details: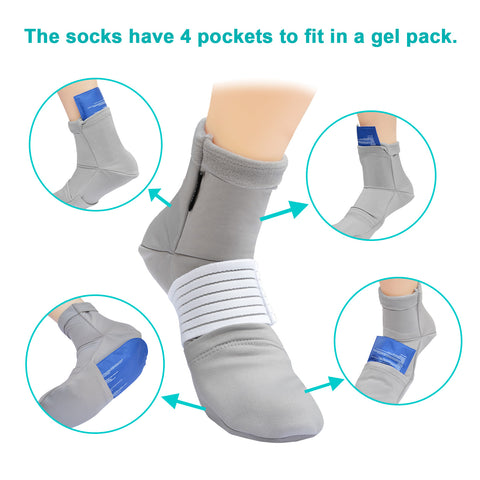 A thoughtful and practical gift for someone you love
Do you or a loved one suffer from burning, pain, swelling or numbness in feet ?
Cold Therapy Socks are the best therapeutic socks for you or your family.

Medium fits: Women's shoe size US 6 - 9 / Men's shoe size US 4 - 8

Large fits: Women's shoe size: US 10-13 / Men's shoe size: US 9-12

Put cold socks on when you can't sleep due to your feet getting extremely hot and prickly some nights. Immediate relief.



The cold socks work great to keep your feet and toes cold during chemotherapy treatment to prevent neuropathy, and reduce the swelling after foot/ankle surgery.



Would absolutely recommend for anyone with joint pain, arthritis, Achilles Tendonor, Mortons Neuroma, heel spurs or issues with feet and ankles.



Cold socks are wonderful for after a long day at work, for hot feet , throbbing trigger point and plantar fasciitis.
YOU WILL RECEIVE IT WITHIN 1-2 DAYS