Backpack Tether for Garmin inReach Mini/inReach Mini 2 Handheld GPS - Garmin Backpack Mount (Not for Other Models)
Features:
Compatible - iGuerburn backpack tether is designed for Garmin inReach mini 2/inReach mini only (Package not include handheld GPS devices). A functional accessory that keeps your handheld handy.


Safety snap swivel - The Garmin inReach holder and backpack mount can be locked or removed by rotating at an angle, allowing you to easily stow and access it. Not afraid it will be lost somewhere.


Adjustable velcro strap - Accommodate normal style of strap with widths up to 2.95". Anti-slip material on the back of the Garmin backpack mount prevents it from sliding around.


Safety cord - Spine mount and tether lanyard cord ensure the Garmin inReach mini 2 stays with you at all times. Unlike other cords that frayed from friction due to contact with the Velcro.


Quality material - Garmin backpack tether protect your device with durable ABS plastic. Ideal for your daily use.
Hiking/ultramarathon training/hunting while keeping the GPS out of the backpack for quick access.
Product Description: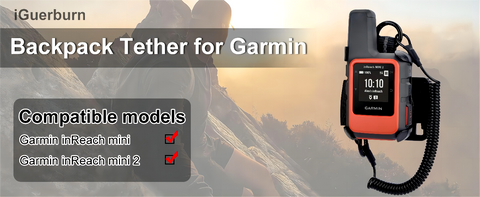 iGuerburn garmin inReach mini 2 backpack mount does solve the problem of constantly reaching into a pocket or pouch for your garmin inreach mini/inreach mini 2 while on the trail. Garmin inreach mini 2 accessories keep the GPS handy and easily accessible.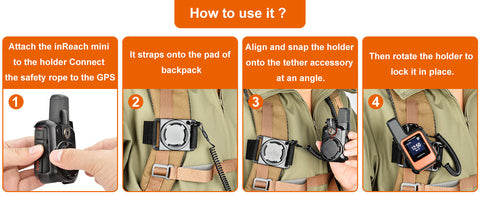 QUICK-RELEASE MOUNT
Convenient and sturdy swivel locking/removal structure
1. Our Garmin inReach mini 2 backpack mount has a convenient and sturdy swivel locking structure to connect the two parts: snap the holder onto the backpack mount at an angle, then turn the case to lock it in place.
2. You can snap the Garmin backpack tether to the shoulder strap from different angles to wear the inReach mini gps vertically or horizontally.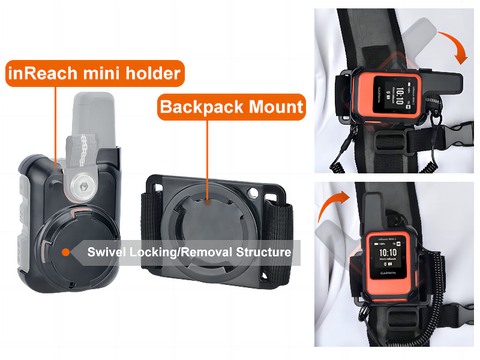 Package Dimensions: 3.15 x 1.97 x 1.77 inches; 1.44 ounces